The home of DOS games since 1998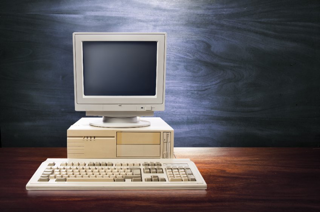 DOS Games Archive was founded on June 27, 1998 by twin brothers Barthe & Jorrit Diepstraten and has been around for 25 years. The purpose of this website is the same from the beginning: to offer legal, downloadable computer games for the MS-DOS operating system. Those are versions of games that can be distributed legally, like shareware, freeware, playable demos or full versions that have been released as freeware or into the public domain. As a result, DOS Games Archive is not a so-called 'abandonware' website.
What is abandonware?
The term 'abandonware' refers to complete versions of games which are being distributed by third parties without permission, allegedly because such software has been 'abandoned' by its original owners. DOS Games Archive is strictly against this practice. Our visitors don't have to worry about accidentally downloading illegal software. All downloads are clearly marked to distinguish between liberated (formerly commercial), freeware and shareware games or game demos.
Every game that is added to the site is thoroughly researched in respect to its legal status and distribution rights, and in some cases, permission to distribute a file is directly obtained from game authors or copyright holders. DOS Games Archive is committed to the highest respect of the authors' rights and is in strict compliance with software license agreement terms. Also, all downloads are checked for adware, malware and viruses.
The first steps
DOS Games Archive was founded at a time when the internet was still in its infancy. Many websites were very simple at the time, both in terms of content and design. To paint a picture of what the internet was like back then: Google was founded later in 1998, LinkedIn in 2002, Facebook in 2004, YouTube in 2005 and Twitter in 2006. Because there were very few websites in 1998 which featured DOS games (while most DOS games were only a few years old at the time), we chose to develop such a website ourselves.
The website, which was initially called 'The Games Archive', went online in the summer of 1998 and contained a handful of games. Over time the archive expanded greatly and currently contains 1,375 DOS games, complete with extensive information about each game.
Maintaining the objective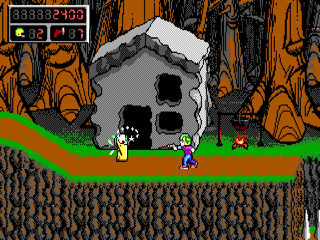 Many gaming websites from the first hour, such as Games Domain, Classic Gaming and Happy Puppy, no longer exist, for example because the founders have quit or because the sites have been bought by large parties and are no longer published. DOS Games Archive is an exception to that; this website is still online and managed by the founders. In recent years, several parties showed interest in buying DOS Games Archive, but we did not proceed with that.
We believe it's important to maintain the objective of this website: to preserve and provide legal DOS games for download, for as long as possible. Many DOS games have become classics and are well worth preserving and playing, even to this day.
Statistics
From start to finish
1998
The first version of this website was built using frames, a technique that was widely used at the time. Thanks to frames, for example the logo and website menu could remain in view while the user browsed through the content. Initially, the website was hosted by free hosting providers such as Tripod and GeoCities, which were popular back then and offered web space to publish websites. Pretty soon after the launch we received free web space from ETMNet, an internet company based in Indianapolis, USA. The owner of that company, Jayseph Richardson (nickname 'Omega'), was impressed by the website and wanted to contribute. From that moment the address of the website was gamesarchive.etmnet.com.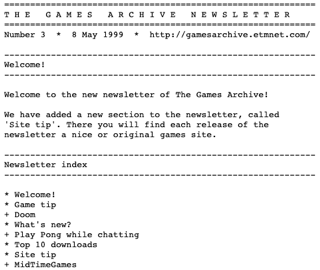 In 1999 we added an e-mail newsletter to keep visitors and other parties informed of site updates. 'The Games Archive Newsletter', later called 'DOS Games Archive Newsletter', was sent by e-mail and contained sections such as the game tip, 'Wanted!' in which readers could ask for help in their search for a particular game, feedback from visitors and of course information about recently added games and updates to the website.
In 1999 we founded 'The MS-DOS Games Ring'. Webrings were popular at the time and connected websites of the same subject with each other. In the same month we decided to register a domain name, which became dosgamesarchive.com. At the time, Network Solutions was the only company that could register .com domain names and charged $70 per domain name annually. That was quite an expense for a 14-year-old. The next day we moved the website from gamesarchive.etmnet.com to dosgamesarchive.com. A few months earlier Darren Hewer from Canada (nickname: 'Emmzee') registered the domain name dosgames.com for his website. At the end of 1999 we changed the name of our website to 'DOS Games Archive' so it matches the domain name.
2000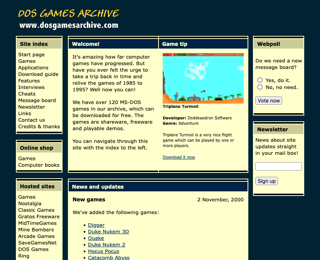 In March 2000 we introduced a new layout. The website was no longer built using frames, but using HTML tables. Tables were the best method to set up a website layout at the time. The game pages were also given a screenshot so the visitor could better see which DOS game the page was about. Advertisements were also displayed on the website for the first time, in the then common banner format of 468x60.
The website was designed for a screen resolution of 800x600. By today's standards, websites were very narrow back then. It would take quite some time before 1024x768 became the new standard, which had to do with the arrival of higher resolution computer displays. In 2000, DOS Games Archive and some partner sites, also known as 'hosted sites', were moved to a new server.
2001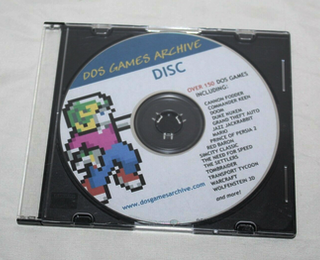 In 2001 we introduced the DOS Games Disc, a CD with more than 150 DOS games, which we sold online for a small fee. The CD was equipped with a graphical menu system with which the user could browse through the game collection. We developed that DOS application with NeoBook, a development tool from NeoSoft. For example, the DOS Games Disc was interesting for visitors who wanted to have all the games of the site, without having to download them one by one. At the time, the limited speeds of internet connections were a limiting factor. For many it was favorable/cheaper to buy a CD with the content of the website. During a couple of years we sold several thousand copies worldwide. Every business day we were busy packing the orders and delivering them to the local post office for shipping.
2003
In 2003 we introduced a new layout with a more pleasant color scheme. This version of the website could be recognized by a screenshot of Prince of Persia 2: The Shadow and the Flame at the top right. The new website featured a new download system that gave the user more options, such as viewing games based on category and license (shareware, freeware, and so on).
In June of 2003 the DOS Games Forum was established, which is a collaboration between DOSGames.com and DOS Games Archive. Instead of DOS Games Archive and DOSGames.com each starting their own forum, we thought it would be a good idea to join forces and create one place on the internet for the DOS games community. To this day, the DOS Games Forum is online on www.dosgames.com/forum.
2009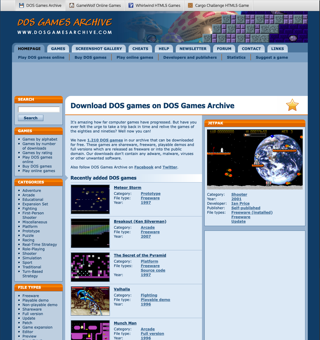 Over the years the number of DOS games on the site increased. In order to renew the now outdated website, we introduced a completely new version in 2009 with more possibilities for the visitor. From that moment on, the website contains much more information about the games, a game rating system, a section with game cheats, more search options and game videos.
Also, a partnership with the download store GOG.com was set up to offer full versions of classic DOS games to visitors. We receive a small fee for each sale. Among other things, this fee makes it possible for us to continue providing this free website. Around this time, the rise of social media was taking place. For DOS Games Archive we opened a Twitter account on July 3, 2010 and a Facebook account on August 26, 2014.
2014
In 2014 we launched a fully custom-made content management system (CMS) that allows us to easily manage the content of the website. Around this time we were approached by George Mayorov (nickname 'MrFlibble') asking whether he could help us with adding games and managing the content. We really appreciated his offer. To this day, George takes care of all game content on DOS Games Archive using the CMS. George has an incredibly extensive knowledge of DOS games and enjoys working on the website. We greatly appreciate his work and attention for quality and detail, as well as the visitors of DOS Games Archive.
2016
In september 2016 we introduced the online play function on DOS Games Archive. This makes it possible to play DOS games directly in the browser, so the user doesn't need to download and install games on his computer. A dream come true. The online play function is powered by JS-DOS and DOSBox.
During the following years, the number of games in the archive continued to increase. This allowed us to celebrate the milestone of 1,000 DOS games in June 2021.
2022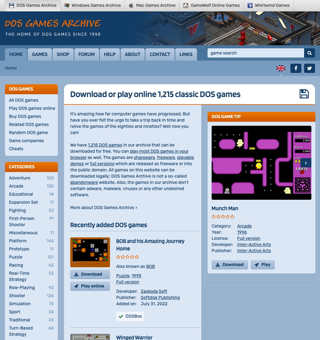 The website developed in 2009 was in desperate need of a replacement, which is why we worked on a completely new version in 2022. For this update we introduced the tagline 'The home of DOS games since 1998' with which we emphasize the age of the website, as well as its service to the visitors over the years.
The new DOS Games Archive features a responsive layout so the website is not only displayed well on desktop computers, but also on tablets and smartphones. The search options have been expanded again, game videos from Ancient DOS Games have been added and the pages load faster thanks to optimization and caching.
2023
Since February 2023 DOS Games Archive is served to visitors using a new Dell EMC server, which is hosted at our office in Uden, the Netherlands. On June 27, 2023 DOS Games Archive celebrated its 25th anniversary. During July, 2023 the Dutch version of DOS Games Archive was launched: www.dosgamesarchive.nl.
To be continued
DOS Games Archive is not only one of the most visited DOS games sites, but one of the most comprehensive as well. In the future we will continue to expand this website even more.
Over the years we welcomed millions of users to DOS Games Archive. We would like to thank all visitors for using this website. If you have any questions, comments and/or suggestions, we would like to hear from you.
Take care and have fun!
Timeline
June 27, 1998: Launch of DOS Games Archive, at the time called 'The Games Archive'
April 4, 1999: First issue of the DOS Games Archive Newsletter sent by e-mail
April 4, 1999: Addition of a message board
April 20, 1999: Addition of a game search engine
June 7, 1999: Introduction of 'The MS-DOS Games (Web)Ring'
June 7, 1999: Addition of the download guide
June 16, 1999: Registration of the domain name dosgamesarchive.com through Network Solutions
June 17, 1999: Move from the old URL (gamesarchive.etmnet.com) to the new URL (www.dosgamesarchive.com)
July 6, 1999: Introduction of the DOS Games Shop, in cooperation with Softdisk's DownloadStore.com
July 6, 1999: Introduction of the DOS Games Book Shop, in cooperation with Amazon.com
July 6, 1999: Hosting of partner sites on subdomains of dosgamesarchive.com, like MidTimeGames, SaveGamesNet and WarCraft World
July/august 1999: Addition of the FAQ section (frequently asked questions)
August 26, 1999: Change of the site name from 'The Games Archive' to 'DOS Games Archive', so it fits the domain name
September 20, 1999: Introduction of a new website layout, using HTML tables instead of HTML frames
October 12, 1999: Update of the download guide
October 12, 1999: Introduction of a new game search engine, powered by Lycos
March 18, 2000: Introduction of a new website layout, including the addition of screenshots to the game pages
June 5, 2000: Move of DOS Games Archive and all partner sites to a new server (more space to store games)
December 10, 2000: Introduction of a new message board with more features
2001: Introduction of the DOS Games Disc, a CD that features over 150 DOS games, including a graphical DOS menu system, sold worldwide
2003: Update of the website layout, including an updated download system
June 7, 2003: Re-launch of the DOS Games Shop, now with our own stock of boxed DOS games, acquired from Broco Software, which distributed DOS games from many game publishers in The Netherlands
June 7, 2003: Introduction of the DOS Games Forum, in cooperation with Darren Hewer's DOSGames.com
October 30, 2004: Addition of second-hand boxed DOS games to the DOS Games Shop
July, 2009: Introduction of a completely new website, including much more detailed game information, a game rating system, a game cheats section, more search options and FLV game videos (Flash video)
July, 2009: Update of the DOS Games Shop, now featuring classic DOS games from the game download store GOG.com
July, 2009: Introduction of the new DOS Games Newsletter, now graphical (HTML and CSS) instead of text-based
July 3, 2010: Introduction of the DOS Games Archive Twitter account
October, 2013: First work on a new, custom-built content management system (CMS) to manage all content
July, 2014: Introduction of the new, custom-built content management system, created with modern web technologies
July, 2014: MrFlibble starts to manage all game content using the new CMS
August 26, 2014: Introduction of the DOS Games Archive Facebook account
June, 2015: Milestone of 500 DOS games reached
July, 2016: Milestone of 600 DOS games reached
September, 2016: Introduction of the online play function, powered by JS-DOS and DOSBox
June, 2018: Milestone of 700 DOS games reached
June 27, 2018: Celebration of 20 years of DOS Games Archive
June, 2019: Milestone of 750 DOS games reached
December, 2019: Milestone of 800 DOS games reached
February 13, 2020: Migration of all downloads and screenshots to Amazon Web Services (AWS)
July, 2020: Milestone of 850 DOS games reached
October, 2020: Milestone of 900 DOS games reached
June, 2021: Milestone of 1.000 DOS games reached
July, 2021: DOS Games Archive was attacked by a hacker, which resulted in limited data loss, which we were able to repair using back-ups
December, 2021: Milestone of 1.100 DOS games reached
June, 2022: Milestone of 1.200 DOS games reached
July, 2022: Introduction of a completely new website, including a responsive layout (works on desktops, tablets and smartphones), more search options and faster loading pages thanks to extensive optimisation and caching
July, 2022: Introduction of the tagline 'The home of DOS games since 1998' to highlight the site's age and its service to visitors over the years
July, 2022: Addition of YouTube game videos by Ancient DOS Games
February, 2023: A new Dell EMC server has been put into operation at our office in Uden, The Netherlands, which handles the web services of DOS Games Archive
June 27, 2023: DOS Games Archive celebrates its 25th anniversary
July, 2023: Introduction of the Dutch version of DOS Games Archive: www.dosgamesarchive.nl
July 27, 2023: Integration of Adtraction affiliate marketing regarding GOG.com