Day Of Pigs 2.0
Game information
Play this game online
You can play Day Of Pigs 2.0 on this website so you don't need to download and install the game on your computer. We recommend to use Google Chrome when playing DOS games online.
Download from this site
File
File type
File size
dop2box.zip
executable: DOP2.BAT
configured for DOSBox

Shareware (installed)
MS-DOS
980 kB
(0.96 MB)
dop2_0.zip
original download

Shareware
MS-DOS
982 kB
(0.96 MB)
Screenshots
This is an updated version of Day Of Pigs which adds sound effects and music, animated CGI cutscenes and level passwords.
Rating
What do you think of this game? Please rate it below on a scale of 1 to 10, where 1 is the lowest and 10 is the highest score.
Game screenshot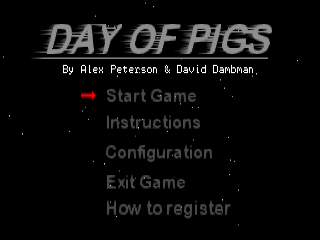 Games
Categories
File types