Sandwarriors
Game information
Download from this site
File
File type
File size
swdemo.zip
includes installer
executable: install.exe

Playable demo
MS-DOS
16,801 kB
(16.41 MB)
sandwarr.zip
executable: DEMO.EXE
Game showcase

Preview
MS-DOS
81,939 kB
(80.02 MB)
sand.zip
executable: GAME.BAT
Early demo

Playable demo
MS-DOS
16,611 kB
(16.22 MB)
Instruction/comment
1. Unpack the contents of swdemo.zip in a temporary folder DOSBox will recognize.
2. Open the file install.ini (located in the install sub-folder) in any text editor and find the line which says ;English=. Delete the semicolon (;) at the beginning of the line and save the file. This will make the installer work properly inside DOSBox.
3. Start DOSBox and run install.exe.
For basic instructions on how to set up and use DOSBox, please refer to this guide.
The demo version contains the first mission from the full game.
Screenshots
On the distant planet Tawy, two noble Houses are engaged in a conflict that will decide the future of their peoples. As a fighter pilot of the Horus Empire, your mission is to complete various mission that will eventually change the course of the war.
Sandwarriors is a futuristic combat flight simulator with a setting heavily inspired by Ancient Egyptian mythology. At the player's disposal is an arsenal of powerful weapons, and the craft can perform complex pre-programmed manoeuvres. The enemy can deploy various ground and air units, including mech walkers, missile launchers, defence turrets, and of course fighters of their own.
Links
Rating
What do you think of this game? Please rate it below on a scale of 1 to 10, where 1 is the lowest and 10 is the highest score.
Game screenshot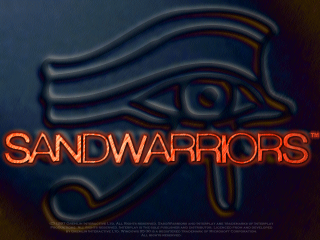 Games
Categories
File types