Absolute Zero
Game information
Play this game online
You can play Absolute Zero on this website so you don't need to download and install the game on your computer. We recommend to use Google Chrome when playing DOS games online.
Download from this site
File
File type
File size
az-dem.zip
executable: AZDEMO.BAT
configured for DOSBox

Playable demo (installed)
MS-DOS
8,159 kB
(7.97 MB)
azdemo.zip
includes installer

Playable demo
MS-DOS
8,472 kB
(8.27 MB)
Screenshots
In this sci-fi simulation game, you're a pilot defending the human colony on Europa, Jupiter's moon, which is under attack by hostile aliens. Fly missions against the enemy forces, and man defensive turrets to protect fellow humans from onslaught.
The playable demo includes two missions (one turret mission and one flying mission) out of 30 in the full game, complete with voiced-over missions briefings.
Links
Rating
What do you think of this game? Please rate it below on a scale of 1 to 10, where 1 is the lowest and 10 is the highest score.
Game screenshot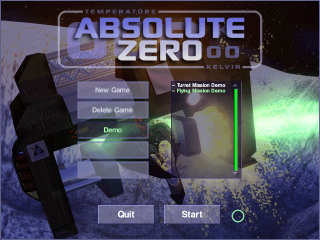 Games
Categories
File types