Chinese Checkers
Game information
Play this game online
You can play Chinese Checkers on this website so you don't need to download and install the game on your computer. We recommend to use Google Chrome when playing DOS games online.
Download from this site
File
File type
File size
ccheck23.zip
executable: CHINESE.EXE

Shareware
MS-DOS
270 kB
(0.26 MB)
Instruction/comment
This is a liberated game: it was originally shareware but in late 2004 ImagiSOFT made the full version available as a free download from their website (please see the links section below).
Screenshots
The animated graphics in ImagiSOFT's extraordinary Chinese Checkers bring this classic game to life. The marbles actually seem to jump off the screen! Challenge up to five opponents and see if you can be the first player to move all your marbles to the opposite side of the board. Nominated for Best Entertainment Software and Best New Product at the 1992 Shareware Industry Awards. You can move your marbles with the keyboard, but it is easier if you have a mouse.
Game links
Rating
What do you think of this game? Please rate it below on a scale of 1 to 10, where 1 is the lowest and 10 is the highest score.
Game screenshot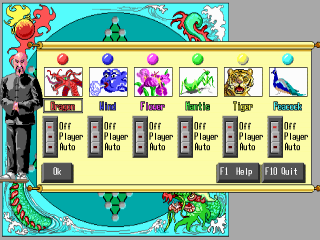 Games
Categories
File types