Colony 28
Game information
Play this game online
You can play Colony 28 on this website so you don't need to download and install the game on your computer. We recommend to use Google Chrome when playing DOS games online.
Download from this site
File
File type
File size
col28dem.zip
executable: COL28.BAT
configured for DOSBox

Playable demo (installed)
MS-DOS
15,674 kB
(15.31 MB)
colony28.zip
includes installer

Playable demo
MS-DOS
15,390 kB
(15.03 MB)
Instruction/comment
For better sound and music quality, use Gravis Ultrasound emulation in DOSBox.
Screenshots
Colony 28 is a side-scrolling platform/shooter game with pre-rendered sprites and GCI cutscenes. The story takes place after 2013 when an alien race invades Earth and enslaves the entire planet. Some humans are captured and transformed into cyborgs to control the rest of the population, while the aliens reside aboard an orbital space station as their centre of operations.
The player character is one such human captive transformed into a robot. His control chip short-curcuits as a result of an attack on the transport ship as he was being transferred from the orbital station, and he regains his free will. Now this nameless hero stands alone against the aliens to free mankind.
The pre-release demo includes one level where you will battle enemy robots and collect various items to help in your quest. The game is generous with CGI cutscenes for various events, and is generally somewhat similar to another cinematic platformer, Flashback. The full version of Colony 28 added an option to take cover during firefights like in Blackthorne, but this function seems to be absent from the pre-release demo.
Links
Rating
What do you think of this game? Please rate it below on a scale of 1 to 10, where 1 is the lowest and 10 is the highest score.
Game screenshot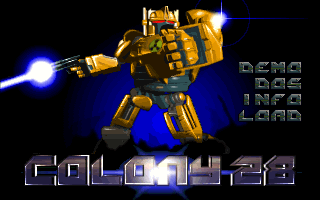 Games
Categories
File types