Game information
Download this game
Choose the file below to download this game.
File
Details

includes installer
executable: ERADEMO2.EXE

MS-DOS
7,705 kB (7.52 MB)
Buy full version game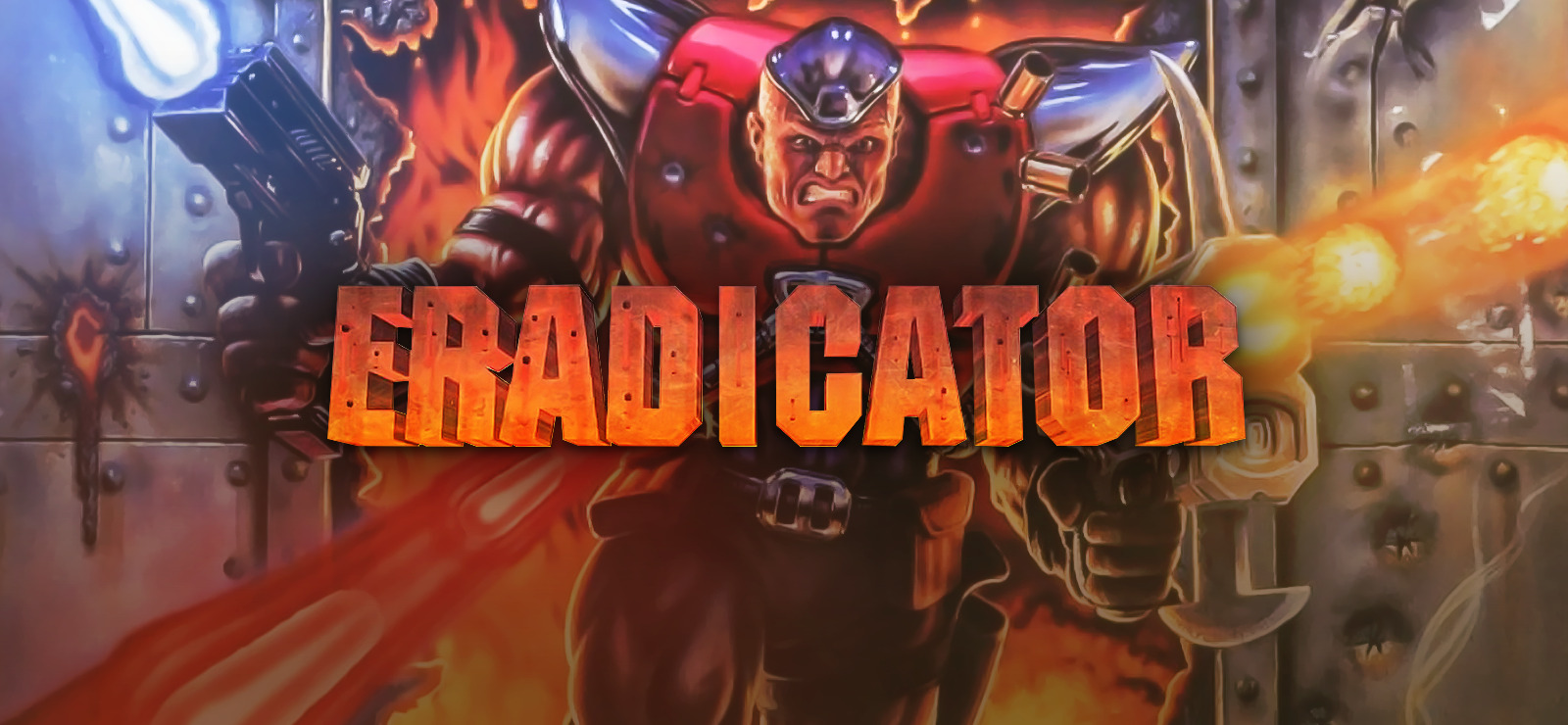 You can download the full version of Eradicator from the download store(s) listed below. If you buy a game, you don't only get the full version game, you also support this site. For every sale we receive a small fee from the download store, which helps us to keep this free website alive. Thank you and have fun!
Instruction/comment
1. Unpack the contents of erademo2.zip into a folder where you want to install the game (e.g. c:\games\erad\).
2. Start DOSBox and run erademo2.exe to unpack the files.
3. After installation, erademo2.exe can be optionally deleted from the game folder.

For basic instructions on how to set up and use DOSBox, please refer to this guide.

The demo version includes three regular single-player levels, one bonus level and one multiplayer level. Only two characters are selectable, Dan Blaze and Kamchak.
User rating
What do you think of Eradicator? Please rate the game below on a scale of 1 to 10, where 1 is the lowest and 10 is the highest score.
Game screenshots
Game description
An ancient alien presence has awakened in the Citadel on the planet Ioxia. The planet's three moons are the only source of an incredibly precious substance known as Mazrium. Now all mining operations are shut down, and all access to the planet and its moons blocked off by an ion shield.

Taking control of one of three distinct characters, the player must infiltrate the Citadel and disable the shield so that Mazrium production is restored.

Eradicator is a mission-based first/third person shooter. The player must progress deeper into the Citadel while fighting its guards and security systems, collecting weaponry and various useful items. The game places as much emphasis on exploration and puzzle solving as on combat. A unusual feature is the ability to remotely control some of the Citadel's security systems to the player's advantage.
Description by MrFlibble
Cheats
Demo cheats:

\fushipi - invincibility
\guns - all ammo
\xmas - all inventory items
\tunnel - turn clipping off
\bloodlust - give microchip powerup
\2krad4u - kill yourself

All the other cheats listed below are the same for all demo versions and the full product:

\sputnik - fill in automap
\amobject - turn on objects in automap
\vici - finish current level
\bload - load a particular level
\aimove - stop enemy a.i.
\frame - display framerate
\fmk - full health
\ouch - hurt yourself
\grav - lower gravity
\blub - toggle slo-mo
\guns - take away ammo
\dunhour - kill all enemies
\poed - no gravity at all
\oreilly - give radar tracker
\76trumbos- display sfx
\gps - diplay location
\\ - repeat the last cheat
Description by Accolade
Game screenshots