Flashback
Game information
Download from this site
File
File type
File size
fbdemous.zip
includes installer
executable: install.exe

Playable demo
MS-DOS
908 kB
(0.89 MB)
Instruction/comment
Unpack the contents of fbdemous.zip into a folder and mount it as a floppy drive (A or B) in DOSBox. Then install the demo from within DOSBox.
Screenshots
Year 2142. Titan Planet... a young student, Conrad B. Hart met them. Who are they and where do they come from? Conrad knows the answers but he has lost his memory and his instinct pushes him into running away... A scenario worthy of a real action movie, a bustling character, stunning animation and neat settings: Flashback is set to be a straight off success, a real must-have among the games.
Game links
Rating
What do you think of this game? Please rate it below on a scale of 1 to 10, where 1 is the lowest and 10 is the highest score.
Game screenshot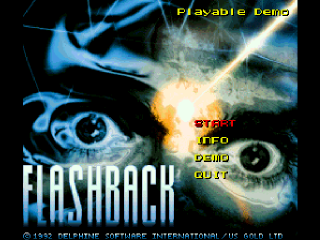 Games
Categories
File types