Kingdom At War
Game information
Play this game online
You can play Kingdom At War on this website so you don't need to download and install the game on your computer. We recommend to use Google Chrome when playing DOS games online.
Download from this site
File
File type
File size
kaw-gus.zip
executable: KAWDEM.BAT
configured for DOSBox

Playable demo (installed)
MS-DOS
1,358 kB
(1.33 MB)
net_kaw.zip
includes installer

Playable demo
MS-DOS
1,367 kB
(1.33 MB)
Instruction/comment
For best music and sound quality, use Gravis Ultrasound emulation in DOSBox.
Screenshots
Kingdom At War is a medieval fantasy turn-based strategy game for up to six players in hot seat mode, or against computer opponents. In many ways, it is similar to Warlords, but more complex in certain aspects. As one of the lords vying for the crown, the main objective of each player is to vanquish all opponents on the map. Towards this end, you need to raise and train troops and generals, assimilate nearby villages and towns into your growing empire, and of course, do battle against other pretenders.
Compared to Warlords, there is more depth in all these aspects. Villages will grow in population, providing more income and food, but you need to spend resources and time on expanding them to accommodate new workers. Troops can and need to be trained, and generals under your command gain experience as well. You can hold a jousting tournament in a town, which will not only raise morale but also attract powerful mercenaries that are otherwise unavailable for hire, and so on. The game offers various alternatives to plain confrontation: you can send negotiators, try to assassinate the enemy general, sabotage food and water supply etc.
The playable demo includes only one scenario from six in the full game. Additionally, the player is allowed to use some of the options, like extra attack and sabotage types, or holding a tourney in a town, only during the first 10 turns. However, the scenario can be played to completion, and the save/load game features are not disabled. Additionally, the demo comes with two saved games which show the playable scenario in mid-progress.
Links
Rating
What do you think of this game? Please rate it below on a scale of 1 to 10, where 1 is the lowest and 10 is the highest score.
Game screenshot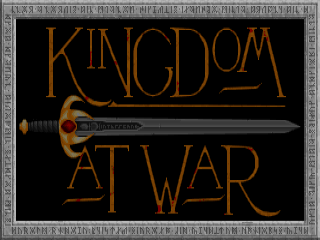 Games
Categories
File types