Kraptor
Game information
Play this game online
You can play Kraptor on this website so you don't need to download and install the game on your computer. We recommend to use Google Chrome when playing DOS games online.
Download from this site
Instruction/comment
The game might take a while to load in the browser.
Screenshots
Kraptor is a vertical scrolling shoot-'em-up that is obviously inspired by the similar classic game, Raptor: Call of the Shadows. Your objective is to fly through enemy territory and do as much damage as you can while taking care not to get shot down by waves of enemies. Everything you destroy adds credits which may be then spent on buying various weapons and ship repairs between missions. There are 10 levels in the game.
Kraptor is a free, open source game which is distributed under the MIT License. A Windows version is also bundled, which is likely the recommended way to play this game.
Links
Rating
What do you think of this game? Please rate it below on a scale of 1 to 10, where 1 is the lowest and 10 is the highest score.
Game screenshot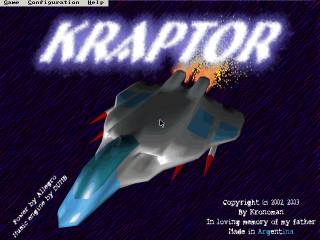 Games
Categories
File types