Pekka Kana
Game information
Play this game online
You can play Pekka Kana on this website so you don't need to download and install the game on your computer. We recommend to use Google Chrome when playing DOS games online.
Download from this site
File
File type
File size
pkanv08b.zip
executable: PKANA.EXE

Freeware
MS-DOS
252 kB
(0.25 MB)
Pk_fixed.zip

Patch
MS-DOS
38 kB
(0.04 MB)
Instruction/comment
DOSBox cycles need to be set to around 15000 for the game to run at acceptable speed.
The file Pf_fixed.zip includes a patch for Pentium computers.
Screenshots
Pekka Kana ("Pekka the Rooster" in English) is a Finnish platform game about the eponymous chicken (rooster) on his quest for revenge after having spent time in a mental hospital as a result of his unsuccessful political campaigning.
The game was supposed to have four episodes but only the one-episode demo version exists.
Links
Rating
What do you think of this game? Please rate it below on a scale of 1 to 10, where 1 is the lowest and 10 is the highest score.
Game screenshot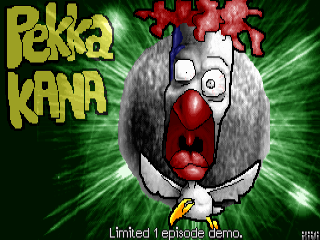 Games
Categories
File types