Puzzle Fun-Pak
Game information
Download from this site
File
File type
File size
packs.zip
executable: PUZPACK/PUZZLE.BAT

Freeware
MS-DOS
298 kB
(0.29 MB)
Instruction/comment
Apogee Software re-released Puzzle Fun-Pak as freeware on 28 May 2004.
Screenshots
Puzzle Fun-Pak is a collection of four puzzle games: Block Five, Asteroids, Rescue, Phrase Master and Maze Machine.
Rating
What do you think of this game? Please rate it below on a scale of 1 to 10, where 1 is the lowest and 10 is the highest score.
Game screenshot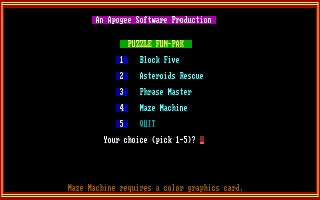 Games
Categories
File types