The Lemmings Chronicles
Game information
Play this game online
You can play The Lemmings Chronicles on this website so you don't need to download and install the game on your computer. We recommend to use Google Chrome when playing DOS games online.
Download from this site
File
File type
File size
chron.zip
executable: L3/L3.BAT
Lemmings 3 v1.55d

Playable demo
MS-DOS
1,318 kB
(1.29 MB)
l3124x.zip
executable: L3.EXE
Lemmings 3 v1.24 ECTS-5

Playable demo
MS-DOS
1,107 kB
(1.08 MB)
Instruction/comment
There are two playable demo versions, each with different levels. Version 1.24 has more levels but no sound.
Screenshots
Livin' Large...
Since their launch in early 1991, Lemmings and their sequels have become the biggest selling computer game series ever. Now these lovable, lime-haired losers are back with the third chapter of the Lemming saga! Bigger, better Lemmings, more frantic fun, another classic in the making!
Start with the classic brain-teasing puzzle action from the first Lemmings game, add the hilarious animation and antics from Lemmings 2: Tribes, and throw in BIG lemmings with new tools 'n toys, and you have The Lemmings Chronicles! The third edition of Lemmings lives up to the high standards people expect from those endearing little Lemmings. Take a walk with the Lemmings as they romp their way through 90 brand new adventures!
There is no comparison, the Lemmings family of games are fun for the whole family, and this latest edition of Lemmings takes that tradition to the next level, with progressively ambitious puzzles that gradually increase the challenge of the Lemmings experience as you get further into the game. Everyone will have fun trying to solve the ingenious puzzles that has made Lemmings one of the most popular games in the world!
If you liked Lemmings before, wait 'til you see them now!!
Links
Rating
What do you think of this game? Please rate it below on a scale of 1 to 10, where 1 is the lowest and 10 is the highest score.
Game screenshot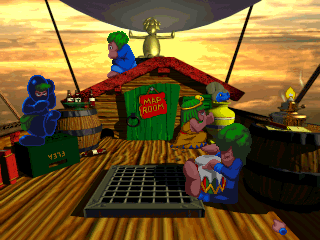 Games
Categories
File types