Vikings: Fields of Conquest
Game information
Play this game online
You can play Vikings: Fields of Conquest on this website so you don't need to download and install the game on your computer. We recommend to use Google Chrome when playing DOS games online.
Download from this site
File
File type
File size
vikshare.zip
executable: VIKINGS.EXE

Shareware
MS-DOS
295 kB
(0.29 MB)
Instruction/comment
The shareware version allows to play for seven turns.
Screenshots
Vikings is a historical turn-based strategy game. As a medieval warlord, face up to five other human or computer opponents on your quest to conquer the whole of England. Manage economy, raise troops, expand your kingdom and fortify captured territories to achieve this goal.
Rating
What do you think of this game? Please rate it below on a scale of 1 to 10, where 1 is the lowest and 10 is the highest score.
Game screenshot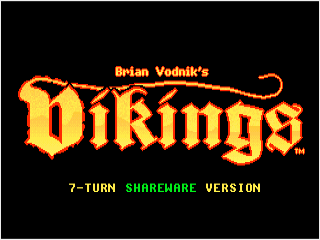 Games
Categories
File types