Wari - The Ancient Game of Africa
Game information
Play this game online
You can play Wari - The Ancient Game of Africa on this website so you don't need to download and install the game on your computer. We recommend to use Google Chrome when playing DOS games online.
Download from this site
File
File type
File size
wari14.zip
executable: WARI.EXE

Shareware
MS-DOS
356 kB
(0.35 MB)
Instruction/comment
This is a liberated game: it was originally shareware but in late 2004 ImagiSOFT made the full version available as a free download from their website (please see the links section below).
Screenshots
Like chess in Europe, Wari (also known as Mancala and Ourri) is Africas foremost strategy game. It was popular 4,000 years ago with the pharaohs of Egypt and until recently, was restricted to African royalty. This two-player strategy game is deceptively easy to learn, but may take a lifetime to master.
Play another person or against one of the computers three skill levels. Waris beautiful graphics, animation, background music and sound clips greatly add to the enjoyment in playing this game. The animated tutorial will teach you the rules and winning strategies.
Game links
Rating
What do you think of this game? Please rate it below on a scale of 1 to 10, where 1 is the lowest and 10 is the highest score.
Game screenshot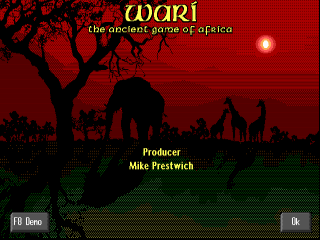 Games
Categories
File types