Crazy Drake
Game information
Play this game online
You can play Crazy Drake on this website so you don't need to download and install the game on your computer. We recommend to use Google Chrome when playing DOS games online.
Download from this site
File
File type
File size
cdrk-box.zip
executable: CDRAKE.BAT
configured for DOSBox

Shareware (installed)
MS-DOS
2,198 kB
(2.15 MB)
cdrake11.zip
version 1.1

Shareware
MS-DOS
2,187 kB
(2.14 MB)
cdrake.zip
version 1.0

Shareware
MS-DOS
2,168 kB
(2.12 MB)
Screenshots
Crazy Drake is a cartoonish console-style side-scrolling platform game that will likely remind you of Earthworm Jim. Taking cues from various children's animated shows, it casts Prince Drake of LoonyVille as the protagonist, disguised to become the superhero/masked avenger Crazy Drake on his quest to retrieve the Sacred Golden Egg from the nasty Dr. Foulbrain.
The game plays very similar to Earthworm Jim, but possibly with less weird antics. Drake has a gun with unlimited ammo, which can be fired in almost any direction, and can run, jump, duck (no pun intended) and climb ledges to progress through the levels. There are also some areas where you'll fly a balloon, and teleporters that look like old-fashioned elevators, complete with a rude elevator boy. Collect golden eggs for score, which will add an extra life when reaching a certain number of points.
Crazy Drake was sold as shareware. The full game has six episodes with over 20 levels, while only the first episode is available in the unregistered shareware version.
Links
Rating
What do you think of this game? Please rate it below on a scale of 1 to 10, where 1 is the lowest and 10 is the highest score.
Game screenshot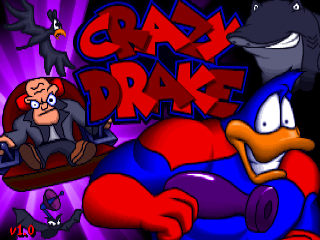 Games
Categories
File types