Game information
Play DOS game online
You can play Rise of the Triad on this website so you don't need to download and install the game on your computer. We recommend to use Google Chrome when playing DOS games online.
Play DOS game online
Download this game
Choose one of the files below to download.
File
Details

executable: ROTT.BAT
configured for DOSBox

MS-DOS
3,612 kB (3.53 MB)

MS-DOS
3,654 kB (3.57 MB)

MS-DOS
23,475 kB (22.92 MB)
Buy full version game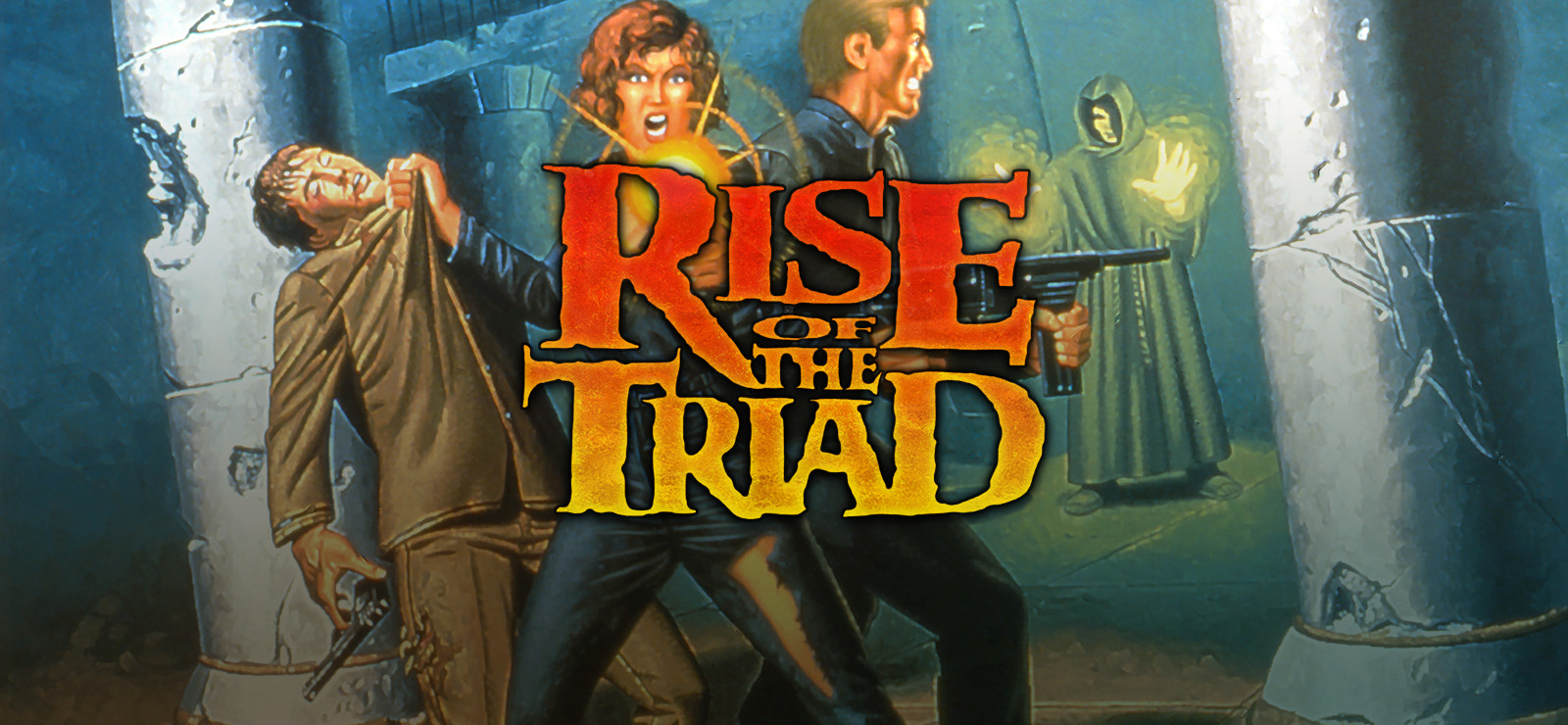 You can download the full version of Rise of the Triad from the download store(s) listed below. If you buy a game, you don't only get the full version game, you also support this site. For every sale we receive a small fee from the download store, which helps us to keep this free website alive. Thank you and have fun!
Instruction/comment
The HUNT Begins is a stand-alone prequel to the retail game, Dark War. There are seven regular single-player levels, one secret level, and two single-player levels accessible only by the use of the level warp cheat.

The LaserSoft expansion adds three more single-player and three multiplayer levels. To add the extra LaserSoft levels, please check the instructions inside lasrrott.zip.

NOTE: This game can be played directly in Windows using a source port (see the links section below).
User rating
What do you think of Rise of the Triad? Please rate the game below on a scale of 1 to 10, where 1 is the lowest and 10 is the highest score.
Game screenshots
Game description
Take on the role of Taradino Cassatt, operative of the High-risk United Nations Taskforce (HUNT). Your mission is to investigate suspected cult activity on a small island in the Gulf of Santa Catalina. You are authorized to use whatever force necessary to complete this objective.

Rise of the Triad uses a modified Wolfenstein 3D engine with many added features, such as dynamic lighting, room-over-room architecture and destructible environment. There is a great variety of weapons, items and enemies. The game doesn't take itself all to seriously, focussing on fun, action-packed gameplay.

One notable feature of the game is a large number of different bonuses the player can earn. To get a specific bonus you might need to use (or not use) a certain weapon, pick up all items of some type in a level, or destroy all items of a certain type etc. A special BONUS BONUS is granted when all possible bonuses have been collected in a level.
Description by MrFlibble
Cheats
Type in each cheat code, letter by letter, to get the desired effect. You can type in either the "code" or the "alternate". Note that for the codes, the slash is a backslash, not a forward slash. The codes are not case sensitive. The "dipstick" code must be given before any others, to enable the other cheats.

Code | Alternate | Description
\ECC | DIPSTICK | Enable/disable cheat codes.
\GTL | GOTO | Level selection.
\GOO | GOOBERS | Restart from first level.
\REL | REEN | Re-enter level.
\L8R | GOGATES | Exit to DOS.
\ECL | GOARCH | Exit current level.
\FUN | [none] | Pause and enter rotation mode (use mouse). Left and right buttons zoom in and out.
\EKG | [none] | Extreme Gib mode.
\LEE | MAESTRO | Game jukebox. Choose a song!
\WWW | CHOJIN | Woundless with weapons. This is the "invulnerability" code. With this code, you also have all the weapons, and you will never run out of ammo.
\GOD | TOOSAD | God mode.
\MER | FLYBOY | Mercury mode.
\SHR | BADTRIP | Shrooms mode.
\ELA | BOING | Elasto mode.
\RFA | SPEED | Enable autorun.
\PAN | PANIC | Reset to normal; full health; no modes, keys, or extra guns.
\OOF | WHACK | Hurt yourself.
\DIE | 86ME | Kill yourself.
\DON | DIMON | Light diminishing on.
\DOF | DIMOFF | Light diminishing off.
\FON | LONDON | Fog on.
\FOF | NODNOL | Fog off.
\SON | SHINEON | Light sourcing on.
\SOF | SHINEOFF | Light sourcing off.
\CON | GOTA386 | Turn off floor and ceiling textures.
\COF | GOTA486 | Turn on floor and ceiling textures.
\BAR | SHOOTME | Bulletproof armor.
\FAR | BURNME | Asbestos armor.
\GAR | LUNGDUNG | Gas mask.
\GAI | SIXTOYS | Get keys, bulletproof armor, health.
\BUM | SLACKER | Get all keys.
\OFP | HUNTPACK | Outfit player (bulletproof armor, keys, heatseeker).
\GW2 | JOHNWOO | Double pistols.
\GW3 | PLUGEM | MP40 machine gun.
\GW4 | VANILLA | Bazooka.
\GW5 | HOTTIMES | Heakseeker.
\GW6 | BOOZE | Drunk missile.
\GW7 | FIREBOMB | Firebomb.
\GW8 | BONES | Flamewall.
\GW9 | SEEYA | Hand of god (permanent god mode).
\CAM | RIDE | Missile camera on/off.
\HUD | WHERE | HUD on/off (x,y,room coordinates).
RECORD | Record a demo (does not work in v1.0).
STOP | Stop a demo (does not work in v1.0).
PLAY | Play a demo (does not work in v1.0).
Description by Derek Greentree
Game links
Game screenshots